Also called UCW, University Canada West established in 2004 and located in Vancouver received a 5 stars rating from QS Stars higher education rating system in September 2021, and it should be mentioned that it was third in Canada and first in British Columbia that received this rating. University Canada West's ranking for MBA program was 4th by ApplyBoards. It is one of our most suggested universities for your studies after considering various factors like 15 different courses, Tuition fees, employment rate etc. They have 2 campuses, West Pender campus and Vancouver House campus. Checkout UCW website for more details.
About University Canada West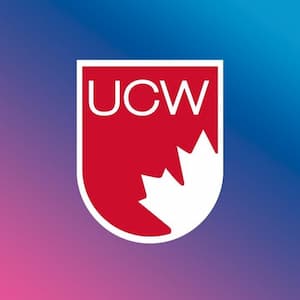 Students from more than 110 countries enrol in various courses at University Canada West. With more than 11,000 students enrolled, this university is supported by 146 staff and 178 full-time and seasonal faculty.
Apply for UCW
Our student advisors can help you in suggesting scholarship options, admission details and courses information, submit your information below for free consultation.
UCW Application fee is CAD 150.

UCW Acceptance Rate: 80%
University Canada West PROGRAMS
UCW offers only a limited number of courses in the business field. They have only 2 programmes for graduates and full-time MBA, MBA foundation program for post graduates. You can also choose a blended program, i.e., a mixture of online and on-campus courses. Here are University Canada West program for international students as listed.
Check Complete List of Undergraduate and Graduate programs at UCW, Vancouver.

Download UCW Brochure from here
| Undergraduate | Graduate |
| --- | --- |
| BCom (On Campus/Online) | MBA (On Campus/Online) |
| Bachelor of Arts (On Campus/Online) | MBA – ACCA Pathway – On-Campus |
| Associate of Arts | MBA Foundation – (On Campus/Online) |
Fee Structure
Here is a glimpse of University Canada West tuition fees for international students. We have covered a few programs from both UG and PG programs for a general idea.
Postgraduate Programs
MBA Tuition fees
MBA is available both online and on-campus. UCW takes students into its MBA program in all the four terms, i.e., Fall (October), Winter (January), Spring (April), and Summer (July).
On Campus: CAD 28,305 (domestic), 38,700 (international)
Online: CAD 19,350
MBA-ACCA
MBA-ACCA pathway was designed for ACCA students, and members who wish to enhance their skills with an MBA at UCW. This opportunity lets the students finish their ACCA exams while doing MBA here.
MBA Foundation
Those who do not have academic and professional qualification for the UCW MBA program, they can pursue this course to gain that eligibility. This is the first fully Open Educational Resources program (OER) which means there are no textbooks available for this program.
On-Campus: CAD 5,165 (domestic)
Undergraduate Programs
Associate of Arts
This program lays a strong foundation and prepares a student for further studies. This course is equivalent to the first 2 years of a 4-year graduation degree.
On-Campus: CAD 18,420 (domestic)
BA In Business Communications
This program can develop your knowledge in media, business, and cultural studies. You can get started with your career in professional writing, public relations (PR), journalism, communications, and advertising.
On-Campus: CAD 36,840 (domestic)
Bachelor of Commerce
This ACBSP-accredited degree will prepare you for a good career in the field of business or management. This program has received NCMA designation from CIM | Chartered Managers Canada. Students will receive a free Associate Membership with this association.
On-Campus: CAD 36,840 (domestic)
University Access Program
Apart from these courses, they also have a University Access Program for those who didn't meet minimum English language requirements for any course mentioned above.
You can join the programs by completing the UAC 30 as described below. The programs' duration can be 3, 6, or 9 months as per your score. If you want to know more about the scores you need to acquire, you can check their website.
Academic IELTS or IELTS indicator – 6.0 with minimum 5.5 in writing or equivalent for UAC 030 Academic English Proficiency (Advanced)
Academic IELTS or IELTS indicator – 5.5 with minimum 5.0 in writing or equivalent for UAC 020 Academic English Proficiency (Upper Intermediate)
Academic IELTS or IELTS indicator – 6.0 with minimum 5.5 in writing or equivalent for UAC 030 Academic English Proficiency (Intermediate)
Fee for this program is given below.
On-Campus: CAD 4,950
Tuition deposit for their international students for all the courses is CAD 7,900 and the first term tuition deposit for its domestic students is CAD 500.
Admissions
Student Intakes For 2023

Here's a table calendar for the important dates in 2023-2024 at UCW:
| Term/Event | Date |
| --- | --- |
| Winter Term 2023 | Open |
| Application Deadlines (Domestic) | 19th December, 23 |
| Application Deadlines (International) | 21st October, 23 |
| Term Starts | 9th January, 24 |
| Fall Term 2023 | Open for Domestic Students |
| Application Deadlines (Domestic) | 4th September, 24 |
| Application Deadlines (International) | 12th May, 24 (Closed) |
| Term Starts | 25th September, 23 |
| Spring Term 2023 | Closed |
| Application Deadlines (Domestic) | 21st March, 23 |
| Application Deadlines (International) | closed |
| Term Starts | 11th April, 23 |
| Summer Term 2023 | Closed |
| Application Deadlines (Domestic) | 13th June, 23 |
| Application Deadlines (International) | 5th April, 23 |
| Term Starts | 4th July, 23 |
Eligibility Criteria For University Canada West
Undergraduates Or Graduation Courses
Canadian High School diploma (Grade 12) or its equivalent with at least C grade or 2 on a scale of 4.33
6.5 or better with a minimum of 6 in writing band in IELTS
88 with at least 20 in each component in TOEFL iBT
6.5 in IELTS
61 with at least 60 in PTE
110 in DET
176 in CAE/CPE
Note that qualifying any one of these tests is sufficient.
Special Admission
Students with both educational background and work experience must fulfill the following requirements:
Minimum 21 years by the first day of the course
A minimum gap of 2 years after high school
Approval from the Admission Committee
Graduates Or Post-Graduation Courses
The procedure for PG courses is the same as that of graduation courses.
A bachelor's degree from a recognized post-secondary institution
A minimum CGPA of 3.0 or better on a scale of 4.33
Good GMAT or GRE score
Minimum 6.5 score in IELTS with minimum 6 in writing
Appropriate Canadian professional designation or its international equivalent
Minimum 3 years professional or management experience certificate
Documents Required
Academic transcripts
AP score report
LORs or Letters of Recommendation
English proficiency test score report
Financial documents
Supplement essays
Passport
Ratings & Awards
In terms of teaching, employability, academic development, online learning, social responsibility, inclusiveness, specialist criteria category of MBA programme -5 star rating
In internationalisation – 4 star rating
ApplyBoards ranked MBA programme – 4th
One of the best online universities in Canada by University Magazine
UCW Campuses
They have 2 campuses in downtown Vancouver, one is Vancouver House campus and the other is West Pender campus.
Vancouver House Campus
This is their new campus with the highest profile developments in Vancouver's recent history. It occupies more than 90,000 sq. feet space.
West Pender Campus
This one has 6 floors, a heritage office building dating back to the early 20th century. Public transport is easily accessible and the neighborhood will meet all your daily needs.
University Canada West Scholarships
UCW Awards & Scholarships: New students applying to UG or PG programs may apply for these entrance awards, scholarships, and grants. Existing students may be eligible for continuing student awards.
Entrance Awards: Available for new students admitted to UG or PG programs. Only 1 entrance award allowed (exceptions may apply). Online program students are ineligible, unless specifically mentioned.
Automatically Awarded Entrance Awards:
Americas Grant
CAD 150 Tuition Concession applicable for the Armed Forces
Commonwealth of Independent States (CIS) Regional Grant
European Grant
Middle East Regional Grant
Pathway to Knowledge Bursary
Scholarships for Academic Excellence
Second Language Excellence Scholarship
Southeast Asia (SEA) Regional Grant
Special Targeted Regional Award Program
UAP Grant
Application-Based Entrance Awards:
Application – required; Availability – limited
Emily Baker Scholarship
Industry Professionals Grant
MBA Foundation Study Grant
Sherryl Kintu Scholarship
University Canada West Founder's Scholarship
Placements/ Career Opportunities
UCW has earned 5 starts rating from QS and has a great placement facility available for its students. Its alumni network is very strong and provides internships, business social networking, job fairs, seminars, resume building and many more opportunities. 95% of its MBA students find employment within a span of 1 year of graduating from the university. The topmost companies recruiting from UCW include:
PwC
Amazon
Air France
BNP Paribas
Shell
Ferrari
Jet Airlines
Accommodations and Other Facilities
They provide off-campus accommodatio. ns of which an average of CAD 650 to CAD 850 may cost you to rent shared rooms. These are usually apartments and home stays that come with amenities like laundry, electricity, wifi, etc. Expenses may vary based on other factors such as furnished or unfurnished apartments, etc. A lease of 6 months is usually required for most of the apartments.

All the remaining expenses depend on your choice of lifestyle and living expenses in Canada. You can do a deep research on the same before you proceed further. Irrespective of these factors and expenses, University Canada West is definitely a great choice for your studies, especially MBA.
You can find more details regarding accommodations for international students here.
What Sets UCW Apart?
Discover the distinctiveness of UCW that sets it apart in the world of higher education:
Unparalleled career development support, with an online platform connecting students to a diverse network of employers throughout Canada
Freedom to start your educational journey at your preferred time of the year, with four admissions intakes available in fall, winter, spring, and summer
Enriching and immersive learning environment, where experienced instructors bring real-world expertise into the classroom
Vibrant community, uniting students from over 110 countries worldwide
To keep students up-to-date, UCW has forged strategic partnerships with tech industry leaders like Amazon, IBM, Salesforce, and Facebook Blueprint. Through these collaborations, MBA program integrates cutting-edge technologies and industry experiences, equipping students with the skills and knowledge needed to thrive in today's tech-driven world.
Gallery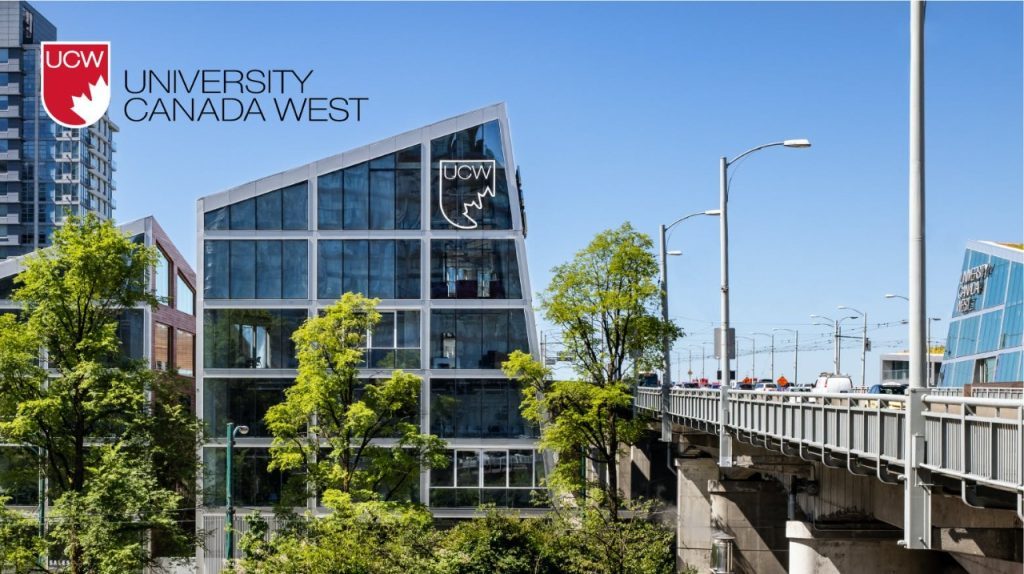 Similar Colleges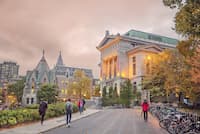 McGill University
Technology and Business courses in Canada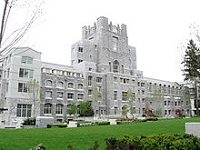 University of British Columbia
Known for Engineering & Business courses in Canada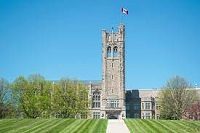 Western University
Technology and business courses in Canada